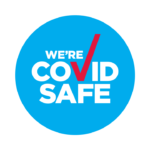 COVID-19 UPDATE – 17TH JUNE 2020
WE CAN'T WAIT TO SEE YOU!
If you haven't already heard the exciting news, CHURCH IS BACK!!! That's right, Sunday July 5th, we will be meeting together back on site!
After an extended and unprecedented season, we are so looking forward to coming together as a Church.
Like most activities in the community that are starting to re-engage, there are guidelines we must adhere to in order to maintain a safe environment for our church family and the broader community.
VENUE CAPACITY
As a place of worship, we are permitted 1 person per 4 sqm inside our church. This is great news for us as we have ample space in our auditorium to host you in comfort and safety. Every room within our building has signage to display the permitted capacity of that space. You will notice some seats and rows are blocked out of service, so please sit with your household in the seats we have made available to ensure we meet compliance.
Service numbers will be capped to ensure we adhere to current gathering restrictions so it's imperative you register to attend your service of choice.
SERVICE TIMES
8:30am | 10:30am | 5:30pm
Please note the evening service will be different to the two morning services.
To allow our team the opportunity to adequately clean the venue between services, we encourage you to grab a coffee and chat outside of church, head across to Peace Park or even pop into one of the many local cafes that have now reopened. We respectfully ask you to please continue maintaining social distancing requirements outside the church building.
REGISTRATION
Registration for our services is essential and in order to comply with Government guidelines your name and contact details must be provided. You may register for your service of choice at: HZ.CHURCH/REGISTER
Once registered, you'll receive an email confirmation with a QR code. Please print this and bring along with you or simply have it ready on your phone for the Welcome Team to check you in.
COVID SAFETY
Horizon Church has been approved as a "COVID Safe Business". Our staff have completed the Australian Government Department of Health COVID-19 Infection Control Training and our volunteers have been trained in our COVID Safe Practices.
We have appointed and trained a COVID Safe Team who have been managing our COVID Safe Response. These team members will be easily identifiable on-site during services wearing their high-vis blue vests.
We've undertaken a review of our processes to ensure we are demonstrating excellence in our church environment. Cleaning frequency has been increased and our venue will receive a thorough clean with hospital grade disinfectant in-between every service. There will be no printed materials, offering containers or communion passed around during service. Individual commercially packaged communion packs will be available for collection upon arrival at church.
Please remember our teams will be maintaining good social distancing practices so will be avoiding hand to hand contact and hugs. But not to worry, we will be there to greet you with a warm smile, a big wave or even a foot bump!
Hand sanitiser stations have been installed at our main entry & exit points and sanitiser is readily available right throughout the building so please make use of it!
Should you require lift access, please note that restrictions allow only one person or one household inside at a time.
To maintain a safe worship environment, we kindly ask that if any of the following apply to you, please do not attend the service:
If you feel unwell or are experiencing symptoms associated with COVID-19 (eg: fever, cough, sore throat, shortness of breath, sneezing/runny nose or loss of sense of smell);
If you have COVID-19 or are awaiting the results of a COVID-19 test;
If you have been in close contact with any known or suspected cases of COVID-19 in the past 14 days;
If you have returned from overseas travel in the past 14 days.
Instead, we warmly invite you to join us online for Horizon at Home.
HORIZON KIDS
Kids is also back in full swing on Sunday 5th July! During this season that we've been meeting online, our Kids team has done an incredible job of preparing a safe environment. The Kids facilities including toys and equipment have undergone a thorough disinfectant clean.
A thorough clean will be undertaken again in-between every service. Registration numbers for children will be capped to ensure we adhere to current gathering restrictions so it's imperative you register your child to attend HZK during your service of choice.
HORIZON AT HOME
We will continue to stream our 10:30am service live on YouTube and Facebook. You can find the links and the all the info you need on our website at hz.church/online
If you have any questions or concerns, please don't hesitate to contact one of our pastors or team at the office on 02 9521 2933 or email [email protected] and we will be happy to assist.
Horizon, we have missed you SO much and cannot wait to see you in person in the coming weeks!
With Love,
Pastors Brad and Ali